The SECAS Program is a concept that was endorsed by the NAC Management in July 2021 to support NAC's Strategic Plan 2020-2030. This is a new program for NAC and commences in January 2022.
What is SECAS? The abbreviation SECAS is derived from NAC's four strategic pillars:
S

ustainable Airports
Operational

E

xcellence
Improve

C

onnectivity &

A

ccessibility
Customer

S

atisfaction
What is the Purpose & Objective of the SECAS Program?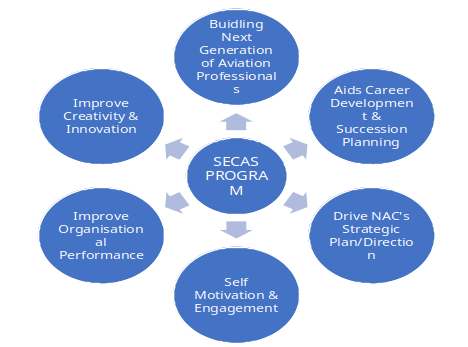 The purpose of SECAS Program is to guide and sustain business performance and contributing towards realizing the overall long-term goals and vision of NAC.
Through the SECAS Program, staff with bright ideas are guided and supported in line with NAC's strategic goals or pillars.
The program aims to achieve the following key business objectives:
Drive SMART business plans, Innovation and Creativity at work
Help Airport Managers and Senior Safety Officers to think and contribute strategically at all airports to drive NAC's corporate strategy
Identify, Engage, Motivate and Recognize valuable strategic contributions